the gangulu
of the first nations
Gangulu occupied 16,000 km2 about the Dawson River, as far south as Banana and Theodore.
The lands stretch over an estimated 4,600 square miles (12,000 km2). Running southwest, they extended from the Birrie and Bokhara rivers to Brewarrina. The western frontier lay between the Culgoa and Birrie rivers.
north queensland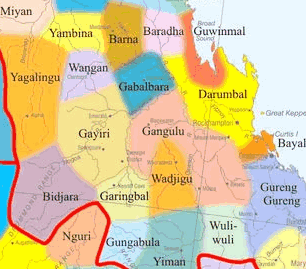 To the northwest, they extended as far as the Mackenzie River and the vicinity of Duaringa and Coomooboolaroo.
Their eastern frontier lay towards Biloela and Mount Morgan, then to the Gogango Range and the upper Don River. Thangool and the headwaters of Grevillea Creek marked its southeastern limits.
alternative names
Kaangooloo Kangulu Kanolu Cangoolootha Gangu Kangalo Kangool lo Khangalu Kongalu Konguli Kongulu Khang Ghangulu Ka ngool lo