The St Kilda Football Club was formed on 2 April 1873, containing many elements of the previous South Yarra Football Club which had disbanded a year earlier. Soon after a decision was made to amalgamate with nearby Prahran Football Club.
The club retained their colours, name and ground, as well as picking up a number of Prahran players. They competed as a senior club in the VFA from 1877 to 1879, 1881–1882 and 1886–1896 before moving into the breakaway competition – The VFL – from 1897 onwards.
Founded
2 April 1873
Nickname
The Saints
Motto
Fortus Quo Fidelus
strength through loyalty
The club's name originates from its original home base in the bayside Melbourne suburb of St Kilda.
They finished second after being beaten in the 1997 AFL Grand Final by Adelaide after defeating Brisbane in the qualifying finals and North Melbourne in the preliminary finals
Biggest winning margin: 139 points Round 22, 2005 v Brisbane Lions.
Moorabbin Oval is currently undergoing a 30 million dollar redevelopment. It will again become a training, entertainment, member and community base for the Saints and the primary community football ground in south-eastern Melbourne region.
St Kilda's primary administrative and training base since the end of the 2010 season is a new facility at Belvedere Park in Seaford, approximately 21 kilometers south of Moorabbin Oval.
Playing Uniform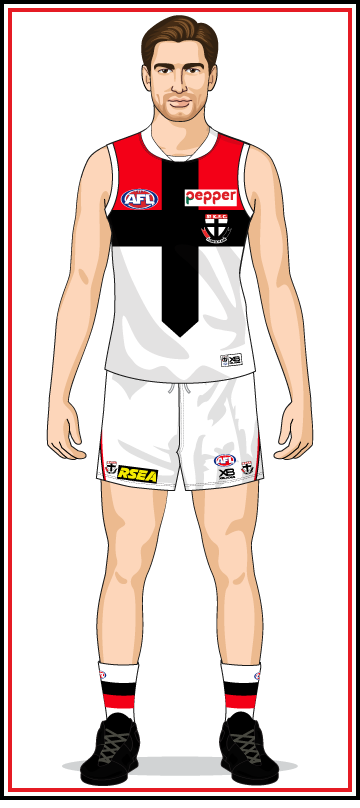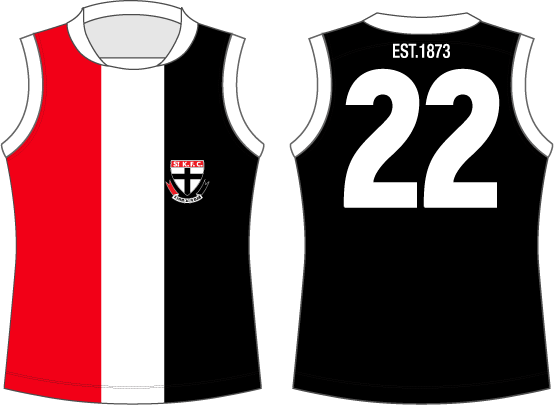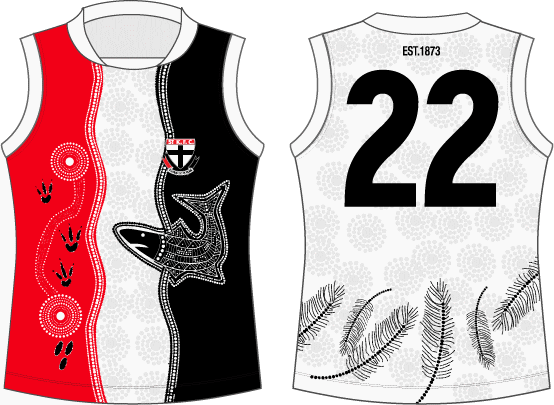 Club Song
Oh when the Saints go marching in!
Oh when the Saints go marching in!
Oh how I want to be with St. Kilda!
When the Saints go marching in!
The club retains Moorabbin Oval as a training, administration and entertainment venue, where it was based between 1965 and 2010.
Junction Oval 1877–1964
In 2000, St Kilda moved to a new playing home at Docklands Stadium
September 1966
When Darrel Baldock held the Victorian Football League premiership cup aloft at the Melbourne Cricket Ground late on the afternoon of September 1966 it represented the culmination of almost a century's worth of effort, dedication, determination and despair – mostly despair.
For if the history of the St. Kilda Football Club is illustrative of anything it is the fact that triumphant achievement in sport represents only a part – and as often as not a very small part – of the whole story.
St Kilda's dramatic single point win over Collingwood on that 'one day' in 1966 stands out like a beacon over a predominantly dour and gloomy terrain, and yet, in spite of repeated lack of success, the club today remains a key player on the national stage.
Aussies love an honest battler, as epitomised during the first world war by the tragic heroism of the defeated Australian forces at Gallipoli.
In the sometimes equally fraught environment of Australian football no club typifies the Gallipoli spirit better than St. Kilda.
Where other clubs boast of premierships, the Saints can point to an unparalleled collection of wooden spoons (twenty-seven in total).
Where a club like Essendon or Hawthorn would tend to panic on missing the finals for more than a couple of seasons in succession, St. Kilda have contested a finals series on only twenty-six occasions during a history lasting more than one and a quarter centuries.
Nevertheless, the club continues to prove popular and, arguably, to capture the imagination and engage the emotions like no other.