Australians speak English. They don't speak it like Englishmen, or Scotsmen, or Welshmen, or Irishmen, or Americans, or Canadians, or South Africans - or anybody else who speaks, or claims to speak, English.
They speak their own brand of the language, developed during their years of isolation from other English-speaking peoples. Whom they can understand.
But some other English-speaking people have difficulty in understanding Australians.
And this, to an Australian, is an astonishing thing.
After all, his language is uniform. He has no dialects.
With a few minor variations in idiom and tempo, his language is the same from Cooktown to Perth, whether you travel around the top, or through the centre, or via the southern cities.
Aussie English
∼ An Explanation of the Australian idiom by John O'Grady (Nino Culotta), 1965


---
Australian English is a major variety of the English language which is used throughout the country.
Although it has no official status in the Constitution, it is the national and de facto official language. It's the first language of the majority of the population.
The history of Aussie English reflects the history of the country as a whole — Aboriginal words, convict slang and words from various migrant groups have all been assimilated.
There are particular words and phrases that are uniquely Australian, meaningless to many from outside the country, but part of what binds Aussies to each other.

---
Generally speaking, it is safer for men to adopt recognisably Australian language than it is for women. Reflecting this fact, Australia is the only English speaking country where there is a significant difference in gender pronunciation.
Specifically, the broad accent that is typically recognised as Australian is almost exclusively spoken by men. Meanwhile, Australian women speak with a cultivated accent that is more similar to an accent spoken by an educated British women.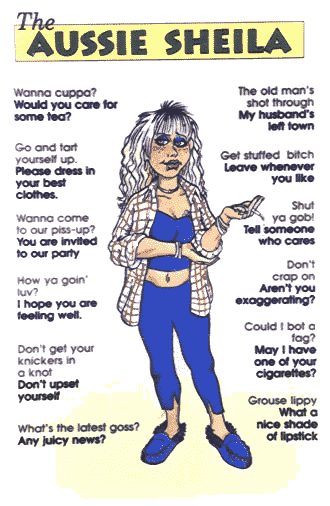 The unequal gender status has been reflected in much of popular culture. For example, Crocodile Dundee created humour that was based on laughing with a stereotyped Australian man.
In contrast, the sitcom Kath & Kim created humour that was based on laughing at stereotyped Australian women.
Naturally, some men could identify with Crocodile Dundee while most women recoiled from Kath & Kim.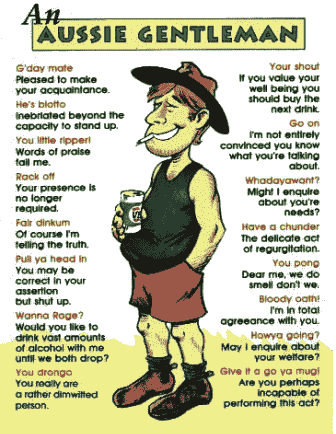 Admittedly, the broad accent (male) is only spoken by around 10% of the population while the cultivated accent (female) by 10%. The remaining 80% speak what is known as a general Australian accent.
This would suggest that, while there may be a gender bias towards one end of the spectrum, most Australians like to be somewhere in the middle.

---
Aussie English has very little music in it. It is generally delivered in tones as tuneless as the bleat of a sheep, or the kark of a questing crow.
It is delivered through an almost closed mouth, with a slurring of consonants. And it is delivered as rapidly as possible. Except outback, where it is often delivered as slowly as possible.
Its vowel sounds have been compared to those of the London Cockney. But they feel insulted by the comparison.
And so do Australians.
At its worst, it is a mumbled monotone, its sentences slangy, idiomatic, and brief.
At its best, it is clearer, lengthier, grammatically correct — but the unmistakeable flat accent will distinguish it from any other intonation on earth.

---
Aussies love colloquialisms and word plays. The results are often very funny, picturesque, and robust.
By using this dictionary you will have a better understanding of the aussie personality, and the aussie sense of humour
austen tayshus - australiana
It requires a healthy tolerance, a creative mind, and a sense of the absurd.

---
Aboriginal

Australia

Long before a word of English was ever spoken in Australia, the Aboriginal languages were heard all over the continent.

Each group or mob has its own language, but those languages spoken close to what later became the main centres of European population were those which have had the most influence on modern Aussie English.

Aboriginal words are likely to have been absorbed into Aussie English as local leaders from both native groups and colonists tried to find some tentative common ground; and as the new arrivals sought to find names for the strange new things they were seeing.

In 1770 Captain James Cook was forced to beach the Endeavour for repairs near present-day Cooktown, after the ship had been damaged on reefs. He and Joseph Banks collected a number of Aboriginal words from the local Guugu Yimidhirr people. One of these words was kangaroo, the local name for the large black or grey Macropus robustus.

Commonly used Aboriginal words include many animal names, such as kookaburra, koala, wallaby and dingo.

Aboriginal words common in Aussie English include yakka, meaning work–common usage is the collocation hard yakka, and cooee, first used by Aboriginal people calling each other through the bush.

Some adjectives and verbs were borrowed into the Australian pidgin that was spoken in the nineteenth century. Most of these have now disappeared, but some important words have survived, such as bung, from the language Yagara in the Brisbane region, meaning dead and by extension broken or useless.

W ords like Mullumbimby and Ulladullah proved to be tongue twisters for many new Aussies. Many place names are Aboriginal — the capital Canberra is so‑named because it means meeting place in Ngunnawal, the traditional language of the Ngunnawal and Gandangara peoples.

Aboriginal words have a nuanced connotation in Australian language use. In the late 19th century, words like coolibah, jumbuck and billabong helped the song Watzing Matilda build a patriotic emotion.

Because of the pre-existence of the names, Australia has not had the de-colonisation naming movements that have been common in other former British colonies. Changing Ayers Rock to Uluru has been one of the few exceptions.

Other Aboriginal words common in Aussie English include yakka, meaning work–normally used as part of the phrase hard yakka, and cooee, first used by Aboriginal people calling each other through the bush. Aboriginal english slang appears in the 1980s with deadly, meaning excellent.

Aboriginal words are likely to have been absorbed into Aussie English as local leaders from both native groups and colonists tried to find some tentative common ground; and as the new arrivals sought to find names for the strange new things they were seeing.

---
Convict

Influences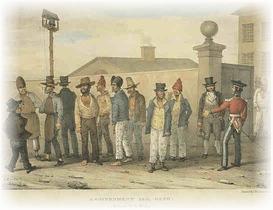 For its first 80 years, Australia was a prison for British Convicts. These Convicts became the first colonial Australians and they subsequently laid much of the country's economic and cultural foundations.
Because the Convicts were never particularly fond of the upper classes, they gained their inspiration from the underdogs and the battlers. Consequently, larrikins, bush-rangers, street criminals and the like became heroes, and negative words gained positive associations.

---
Flash

Language

Many writers make comments about the early language of the convict class.
❝ In some of our early courts of justice, an interpreter was frequently necessary to translate the deposition of the witness, and the defence of the prisoner.

A Complete Account of the Settlement at Port Jackson Watkin Tench, 1793
Tench is referring to underworld language, but while this language was no doubt commonly used, it is understandably not well represented in the early written records.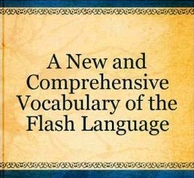 One exception to this is the work of the convict James Hardy Vaux, who wrote his Vocabulary of the Flash Language in 1812, and dedicated the work to his commandant at the penal settlement at Newcastle.
This was published in 1819 when it was appended to Vaux's Memoirs. While it was produced in Australia, it is largely a collection of early nineteenth-century London underworld slang.
---
❝ A kind of cant phraselogy is current from one end of the Metropolis to the other, and you will scarcely be able to move a single step without consulting a Slang Dictionary, or having some friend at your elbow to explain the strange expressions which, at every turn, will assail your ear

London News 1820

---
Immigrant

Influences

Whether convicts or willing migrants, the Europeans who found their way to Australia from the eighteenth century onwards came from a wide range of different groups.

At that time, there were great differences between different British English dialects, so that convicts from different regions of

England, Scotland, Wales and Ireland would all have spoken very differently.
Some would not have spoken English at all — being Irish or Scots Gaelic or Welsh speakers.
To understand each other, these groups would have begun to create a common language, and words from various dialects would have become part of a new slang and new idioms.

---
You feel free in Australia. There is great relief in the atmosphere - a relief from tension, from pressure, an absence of control of will or form.

The skies open above you and the areas open around you.

D.H Lawrence — English author